The Richland County business community is coming together to partner with the Richland County Dog Shelter to ensure that every pet finds its family, thanks to the Retriever Digital Signs throughout the region.
"It's important that we have many outlets to reach out to the community. One of the top ways for us to be successful is to use the Retriever system. It's a way that we can get the dogs here into the community that has provided us a lot of success," shares Dave Jordan, Richland County Dog Warden.
The Richland County Dog Shelter partners with high traffic local businesses like Mechanics Bank and Dunkin Jewelers to promote pet adoption in the area. Featuring slides like, "Pet of the Week," and tips for pet safety, area businesses can easily help spread an important message with minimal time commitment (it literally takes just seconds) and no additional cost.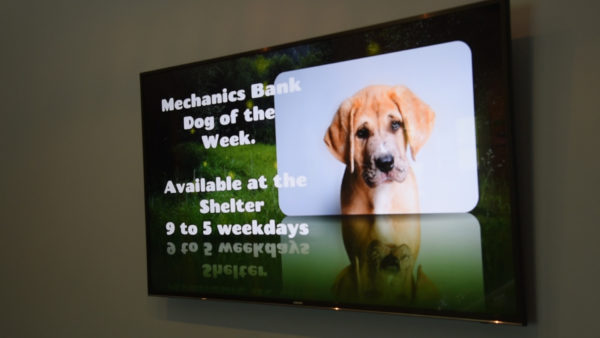 "It's handled, it's prepared, it's ready to go. It's done really well. They're professional-looking slides and fit the mix of everything else that we have on our Retriever system. And, it's easy to use. It's a great story to see a dog find a forever family through our Pet of the Week program," shares Kristi Lord, Marketing Director at Mechanics Bank.
Mixing in community-oriented slides, like the Pet of the Week from the local dog shelter, also helps to increase viewer engagement with your promotional slides, while making your community a better place in a very simple and affordable way.
When a community resource like the Dog Shelter is able to leverage community partners, adoptions increase and everyone can enjoy the success. "We had a retail customer looking at a ring. As she was looking at the ring, she noticed on the Retriever this dog for adoption – the Dog of the Week. She became more interested in the little doggy than she was in the ring, and said, 'I will be back.' She went to the dog shelter, adopted the dog, and then came back and bought a ring from us," shares Jay Wineland, owner of Dunkin Jewelers.
When local businesses partner with community entities like the Dog Shelter, it gives a brand the opportunity to live out their brand values in the community and sends that message to their customers. Kristi Lord shares, "You're helping the community, you're helping organizations in the community, you're helping animals, you're helping families… it's overall a very positive, great message to send as a business."
See the whole story here:

Are you ready to get connected? Find out more about Retriever Digital Signage by shooting us a quick email.