Decorating for the holidays can be fun, but it can also be time consuming during a time of year when it can be hard to spare the time. Not to mention, between October and January, decorations need to go up for Halloween, Thanksgiving, Christmas, and New Year's (plus other holidays if you celebrate them) – it can be daunting.
One thing all Retriever customers have in common is that they have people looking at their signs. Whether the signs are being used for internal communications or for external promotion, having digital signs gives a business the opportunity to engage the viewer and inject something great into the day. We've made that especially easy for your staff with a wealth of pre-built slides.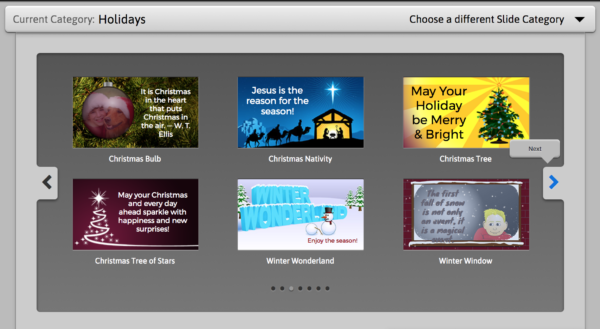 Simply navigate to the "Holidays" category on your Retriever dashboard. We've created dozens of slides for many of the year's holidays that you can schedule in advance in a few moments, with hardly any extra effort. One could easily program out the holidays for the entire year in a matter of minutes, deploying them to all their digital signs.
Most of our holiday slides can be customized simply to personalize for your business or with a custom message, no graphic designer required! Your customers and your staff will smile as a little season's greetings welcomes them in to your workplace.
Our team recommends mixing up human interest slides (holidays, trivia, news items, birthdays, etc.) amidst the business-oriented or marketing slides to keep your viewers engaged longer. Taking advantage of our slide database is a great way to do so without costing you valuable time and money.